Updated 1-8-09

The following information below is no longer valid as therapeutic recreation courses have been discontinued at Eastern Institute of Technology and Southern Institute of Technology. Gary Eckhardt was the last US lecturer at SIT in Invercargill because the programs have been discontinued. EIT ended theirs in 2007 and SIT in 2008. Glen Kastrinos was the last instructor at EIT in Napier. TR never became a recognized profession in NZ so graduates were finding jobs in other social services agencies, competing with social work graduates, etc.
================================================
Therapeutic Recreation in New Zealand (note- all information below is posted here for historical purposes... TR programs in NZ has been discontinued)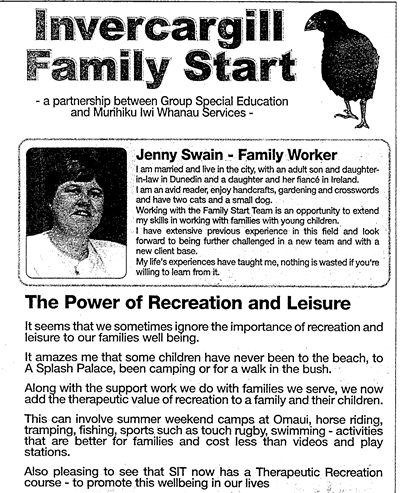 A bachelor's degree in Therapeutic Recreation was initiated in 1999 by the Eastern Institute of Technology (EIT) and in 2001 by the Southern Institute of Technology (SIT). New to New Zealand, TR has been a recognized form of health care and human service provision for decades in the United States and other countries and has been embraced by SIT in the College of Health, Exercise and Recreation as a much needed and advantageous degree programme due to the benefits of TR in the Invercargill community and surrounding areas.

To date, all faculty come from the USA with the exception of a new lecturer from Australia who studied Diversional Therapy at Queensland University. Thus, a major consideration in designing these TR curricula has been to learn and understand the NZ culture and social systems. It is essential to ensure that TR in NZ develops in keeping with the way of life and mores of the people of NZ. A variety of theoretical and applied sources have been content analysed to determine relevant socio-demographic data and socio-cultural history and current sociological issues in recreation and sport and human services and healthcare. Additionally, qualitative semi-structured interviews were conducted with health and human service providers to determine the need for and the anticipated role of TR specialists in their agencies. The beginnings of TR in NZ have then been examined through applying a theoretical model similar to that of Carter, Van Andel and Robb (1995) who analysed the early history of TR in the USA. Applying this model, data have been collected about the formation of TR in NZ in terms of: 1) the healthcare and human services systems, 2) the importance of recreation, 3) the use of recreation as a rehabilitation tool in clinical and community programmes, and 4) the implementation of the Treaty of Waitangi. While similarities do and will exist between the USA and NZ, projected differences based on the Kiwi culture are emerging. Among these are strong interests in the potential of TR among professionals working with at-risk youth and incarcerated populations and a more entrepreneurial approach to the delivery of TR services.

Examinations of the NZ culture and social systems and interviews with health and human service agencies have formed an essential basis for developing professional preparation programmes in TR New Zealand. Comparing these data with the USA has provided evidence for projecting the future directions of TR in NZ. Of particular interest are the likely differences, which seem to be emerging, and are related to Kiwi culture. A more entrepreneurial approach to TR service delivery and working with at-risk youth and incarcerated individuals seems likely.

EIT has graduated its first class of therapeutic recreation specialists who are currently employed in educational, human and health service agencies providing TR to at-risk youth, individuals with mental illness and intellectual disabilities and rehabilitation management services for individuals with dual diagnosis. The first SIT students received their bachelors degrees in therapeutic recreation in 2003.
Fran Stanat, Ph.D.Southern Institute of Technology
Invercargill, New Zealand

ADDITIONAL RESOURCES

ATRA's International Section

http://www.diversionaltherapy.org.nz/ - NZ Society of Diversional Therapists Inc