Horticultural Therapy Program Plan: Greenhouse Operations - Hydroponic Greenhouse Gardening
by Charles Sourby
HORTICULTURAL THERAPY PROGRAM PLAN
NAME OF PROGRAM: Greenhouse Operations
SESSION NUMBER: 5 DATE: STAFF: htr
SESSION TITLE: Hydroponic Greenhouse Gardening
MATERIALS NEEDED:
1. Oasis Horticultural Cubes 1"
2. Aquaculture system tray, plastic pale
3. Nutrient Solution
4. vermiculite
5. lettuce seeds
6. tomato seeds
GOALS:
1. To use fine motor skills
2. To improve or maintain cognitive functioning
OBJECTIVES:
1. Given the appropriate supplies and equipment, participants will use fine motor skill to build a simple Hydroponic growing system
2. Upon request participants will be able to list 6 nutrient requirements for plants growing in a soil less environment 90% of the time.
PROCESS:
1. Present group with a sample Hydroponic system:

a.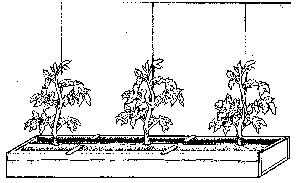 2. Discuss history of Hydroponic gardening
3. Distribute supplies & equipment
4. Demonstrate building of Hydroponic system
5. Plant lettuce and tomato seeds in Oasis cube
6. Add nutrient mix to aquaculture system tray
7. Label & date


DATE:___________________________