Backyards and Butterflies : Ways to Include Children With Disabilities in Outdoor Activities by Doreen Greenstein, Naomi Miner (Contributor), Emilie Kudela, Suzanne Bloom (Contributor)
Dozens of imaginative ideas for making outdoor activities accessible to children with physical disabilities.
Community Recreation for People With Disabilities : Strategies for Inclusion by Stuart J. Schlein, M. Tipton Ray (Contributor), Frederick P. Green (Contributor), stu Schleien, Stuart J. Schleien
Parents, caregivers and other advocates of inclusive leisure services will learn what is expected of recreation providers and be able to hold them accountable for making services open & accessible for all. It's a practical resource for guiding advocates wishing to make sustainable systems changes in their communities.
The Diabetes Sports and Exercise Book : How to Play Your Way to Better Health by Claudia Graham, June Biermann (Contributor), Barbara Toohey
You will learn the benefits of exercise for diabetes control, how to choose activities and exercise correctly, ways to fit physical activity into your life, how to exercise if you have complications, and sports and exercise for diabetic children and seniors.
Hardcover - 220 pages (April 1995)
Lowell House; ISBN: 1565652061

Games for People With Sensory Impairments : Strategies for Including Individuals of All Ages by Lauren J. Lieberman, Jim F. Cowart
Paperback (July 1996)
Human Kinetics Pub; ISBN: 0873228901

Including People With Disabilities in Camp Programs : A Resource for Camp Directors by Glenn Roswal (Editor), Karen J. Dowd (Editor), Jerry W. Bynum (Editor)
Paperback - 143 pages Spiral edition (March 1998)
Amer Camping Assn; ISBN: 0876031564

Inclusive Leisure Services: Responding to the Rights of People With Disabilities, 2nd Edition
by John, Ph.D. Dattilo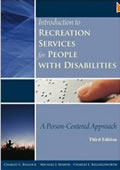 Introduction to Recreation Services for People With Disabilities : A Person-Centered Approach by Charles Bullock, Michael Mahon and Charles L. Killingsworth
The authors have managed to make a comprehensive book about people with disabilities, the history of disability, discrimination, barriers and solution for recreational services for this population. There are special chapters for people with intellectual disability, physical disability, visual impairment, hearing loss and mental illness.